Richard Faragher, the former Chair of the BSRA , first British President of the American Aging Association, and Professor of Biogerontology at the University of Brighton was awarded the BSRA Lord Cohen of Birkenhead Medal for services to gerontology at the BSRA ASM in Durham last week.
First awarded in 1980 the Lord Cohen Medal recognises individuals who have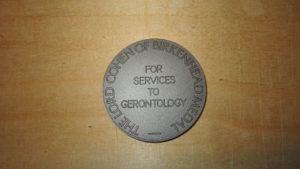 made significant contributions to ageing research.  Past recipients include Professor Leonard Hayflick, discoverer of the 'Hayflick limit' to cell division, Reith lecturer Professor Tom Kirkwood CBE who proposed the evolutionary concept of disposable soma and Mrs Elizabeth Mills OBE, former director of the charity Research into Ageing and Honorary Doctor of Science of the University of Brighton.
On the news of receiving the award Professor Faragher said "I am deeply honoured by this mark of esteem from my peers. But science is a collaborative project and I therefore feel this award is as much a mark of recognition of the work of my students and collaborators as it of any contribution of mine."