Nutrition and Biology of Ageing Meeting
12-14 September 2022
University of Kent, Canterbury
This is a joint event between the British Society for Research on Ageing (BSRA) and the Biochemical Society.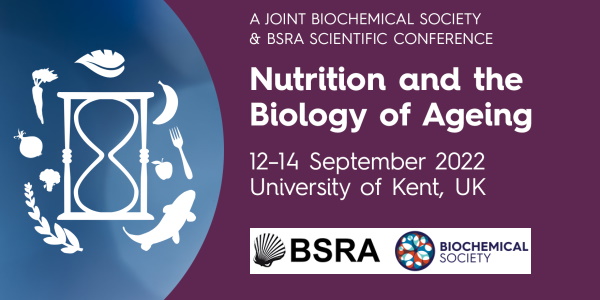 There is an ongoing demographic shift with populations ageing globally, and an urgent need for strategies to improve age-related health. Recent research into the mechanisms of ageing show that despite its complexity, ageing is driven by common underlying biological processes, driving multiple age-related pathologies. Understanding these biological mechanisms and processes will help us develop interventions to tackle ageing and improve the incidence of age-related disease. This is a rapidly expanding research field. These ageing mechanisms and processes can be ameliorated by dietary, genetic, and pharmacological interventions and preventive medicine can be developed to promote healthy ageing and delay age-related functional decline.
A major discovery in the field has been that diet and nutrition controls ageing. Diet is a well-established determinant for long-life health; Dietary restriction is the most effective way to improve age-related health across species and the nutritional balance within a diet is critically important. Understanding the nutritional control of ageing and the key nutrient sensing signalling pathways that are involved is a key focus of the research field.
Our conference will bring together researchers from a wide range of disciplines working on basic molecular and cellular processes of nutrition, its impact in metabolism and interventions to improve age-related health. Topics include timing of feeding, specific nutrients, roles played by the gut microbiota, and dietary and pharmacological interventions that recapitulate the benefits of dietary changes.
More details, registration and abstract submission available here: https://www.eventsforce.net/biochemsoc/frontend/reg/thome.csp?pageID=69957&eventID=141
Confirmed speakers
Professor Brian Kennedy, Director of Centre for Healthy Ageing, National University of Singapore
Professor Keith Blackwell, Joslin Diabetes Centre, Harvard Medical School, USA
Dr Martin Denzel, Principal Investigator at Altos Labs, Cambridge, UK
Professor Irene Miguel-Aliaga, Imperial College, UK
Dr Joris Deelen, Principal Investigator, Max Planck Institute for Biology of Ageing, Cologne
Professor Jane Murphy, Bournemouth University, UK
Professor Paul Shiels, University of Glasgow, UK
Dr Claire Steves, King's College London, UK
Dr Celine Halioua, Loyal for Dogs, San Francisco, California ,USA
Dr Tina Woods, Founder & CEO, Collider Health, UK
Dr Cassandra Coburn, Editor In Chief, The Lancet Healthy Longevity and author of 'Enough: How your food choices will save the planet'
Download the draft programme for more details.

Early Career Researchers Workshop – Reflexivity in Research
Facilitated by Dr Jennifer Leigh
New initiative linking social sciences to scientific research. This workshop will get you to think about who you are as a scientist, and make you better at what you do. STEM researchers are not traditionally used to creative or reflective methods to understand their work and working lives. This workshop will encourage participants to reflect on their scientific journey so far and plan for a successful and enjoyable future. It will be led by Dr Jennifer Leigh, a social scientist uniquely placed to develop your rapport and trust due to her scientific background and experience in this field. The event promises to be extremely enjoyable, allowing time for your own reflection and for learning from other's experiences.