By Diana Marcu, winner of the British Society of Research on Ageing Korenchevsky Award 2022
I have always found public speaking terrifying, but was also aware that it is a necessary part of being a scientist. At the British Society of Research on Ageing (BSRA) meeting 2022, I built up the courage to make it to the front of the room and present my research for the first time to a wide international audience. There I was awarded the Korenchevsky Prize for best presentation by an early career researcher. Being in the very early stages of building my career as a scientist, this award had a huge positive impact on me, proving that doing the most terrifying thing sometimes can lead to the most satisfying outcomes.
Part of the award was to travel to Oklahoma City to attend AGE 2023, the annual American Aging Association conference. The whole experience was absolutely amazing – travelling there, meeting in person many inspiring researchers and being part of such a unique event.
There, I had the chance to present my research again, but more importantly have I was able to have in depth conversations with people that had similar interests after presenting the work. I was also part of the panel discussion at the end of my session, where we answered questions about Resilience and Healthy Ageing. Again, this was such a unique experience, being able to discuss both current innovations and challenges in ageing research. To my delight, I had the opportunity to hear a special lecture given by Prof Steven Austen, the author of the book 'Methuselah's Zoo: What Nature Can Teach Us about Living Longer, Healthier Lives' which was beyond inspiring and insightful. Other highlights from the conference were presentations about super-animals, such as naked mole rats, which utilized a comparative approach, to understand adaptations that those extremely long-lived animals have. I have enjoyed learning more about the epigenetics of ageing and how maternal factors can influence offspring lifespan and healthspan.
Those are just a few examples of personal favourites. Nevertheless, the whole event was fantastic, and the best part was meeting many inspiring scientists, networking and also having fun exploring a new city and making new friends. The value that this experience has brought to my personal and professional growth is unquestionable and I am beyond grateful for the opportunity.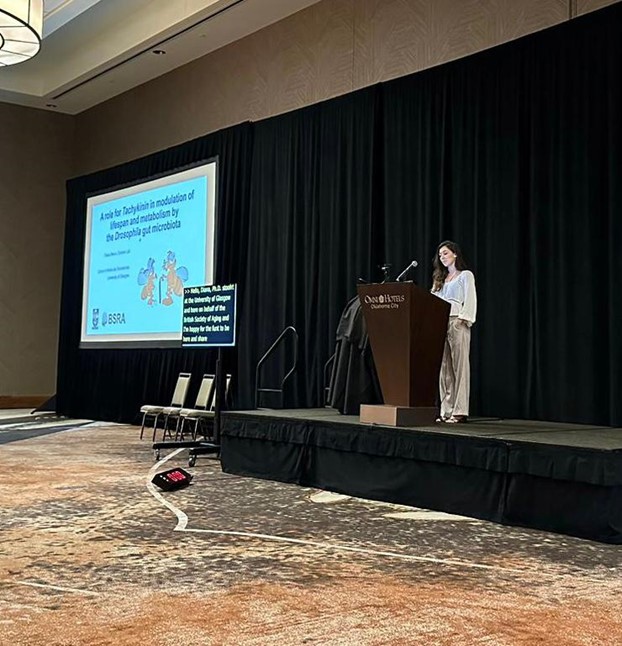 Diana Marcu at AGE 2023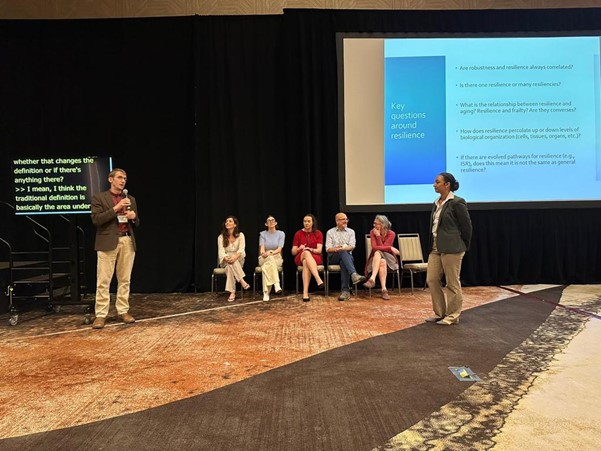 Panel Discussion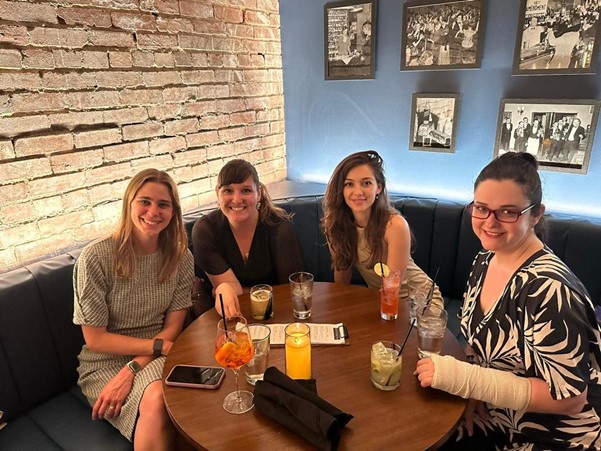 Networking at AGE 2023