BSRA ASM 2019: Redox signalling in physiology, ageing and disease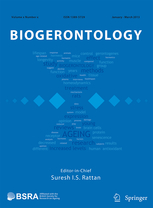 The main topics faced by this SI are:
Biological sources and metabolism of reactive oxygen species
Tools for measuring ROS, redox changes and elucidating redox-signalling mechanisms
Redox-regulated physiological processes and stress responses
Biochemistry of redox-signalling; thiol oxidation, redox-relays, redoxin systems and glutathione
The roles of ROS in ageing and disease
Requirements
Authors will be required to follow the Author's Guide for manuscript submission to Biogerontology (see http://www.springer.com/12559). The authors are requested to submit their manuscripts via the online submission manuscript system, available at http://www.editorialmanager.com/bgen/. During submission, authors should explicitly choose the title of the special issue in the Subject line (BSRA SI 2019).
Timeframe
Submissions Deadline: November 15th, 2019
Contact
Dr. Katarzyna Goljanek-Whysall (K.Whysall@liverpool.ac.uk)
Dr. Marina Ezcurra (m.ezcurra@kent.ac.uk)