Lipid Mediators in Ageing and Disease
5—6 January 2017, Aston University, UK.
A Biochemical Society Focused Meeting
Enzymatic and non-enzymatic oxidation of polyunsaturated fatty acids leads to the formation of biologically active metabolites, known as lipid mediators. These can be exported extracellularly, and then sequestrated rapidly to stimulate cellular autocrine or paracrine pathways. Lipid mediators are involved in many physiological processes and their dysregulations have been observed in ageing and often linked to various lipid-based diseases such as diabetes, atherosclerosis, arthritis, cancer, Alzheimer's disease and metabolic syndrome.
This focus group meeting aims to bring together knowledge of lipid mediators across ageing and inflammatory diseases to underpin their importance to life sciences and clinical applications.
Speakers Include:
Anna Nicolaou (The University of Manchester, United Kingdom)
Charles Serhan (Brigham and Women's Hospital/Harvard Medical School, U.S.A.)
Mauro Perretti (Barts and The London School of Medicine, United Kingdom)
Petroula Proitsi (King's College London, United Kingdom)
Sarah Lauder (Cardiff University, United Kingdom)
Valery Bochkov (University of Graz, Austria)
For more details please visit the web page here.
---
BSRA ASM 2016: Evolution and the Biology of Ageing
The 2016 BSRA is soon upon us! Being held at The School of Biological and Biomedical Sciences at Durham University on the 4-6th July 2016 with the theme of 'Evolution and the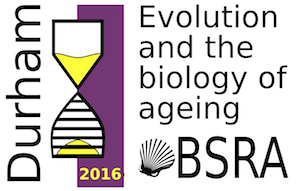 Biology of Ageing'.
Speakers include:
Daniel Promislow, University of Washington
Tom Kirkwood, Newcastle University
Susan Ozanne, University of Cambridge
Pat Monaghan, University of Glasgow
Olivia Casanueva, Babraham Institute
Jacob Moorad, University of Edinburgh
Owen Jones, University of Southern Denmark
Patrick Phillips, University of Oregon
Vera Gorbunova, University of Rochester, NY
Anne McArdle, University of Liverpool
Richard Faragher, University of Brighton
The latest copy of the conference programme can be found here.
The conference map can be found here.
The SEARG schedule can be found here.